Book Werkstatt for your next company event. Our raw and industrial space can host all types of celebrations from receptions, product launches, seminars to company and anniversary parties. In Werkstatt there is room for unleashing creativity and building strong relationships. Host a unique event in Werkstatt which has capacity for up to 400 seated people.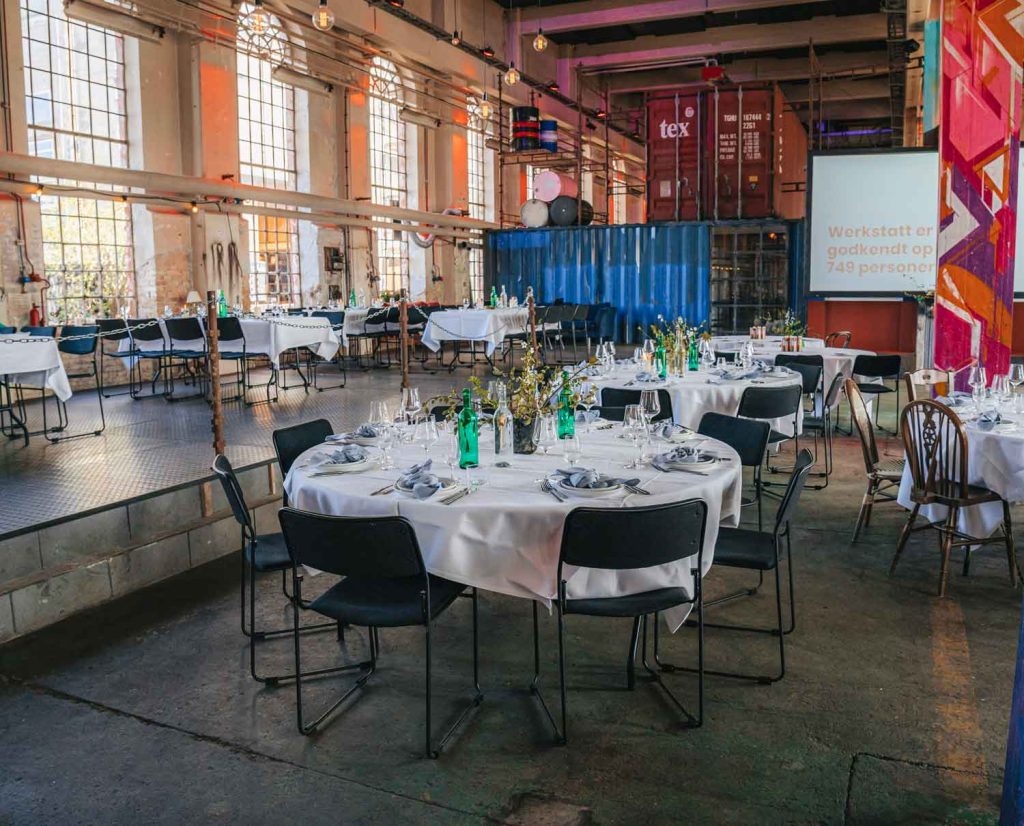 1,000 m2 raw event hall for big events
Only a 10-minute bike ride from Nyhavn you will find Werkstatt – an exceptional 1,000 m2 venue which you can rent for your next company event. We'll help you put together exactly the event you want – an event that will not be forgotten.

With its raw and industrial charm Werkstatt is an exceptional venue loaded with tall tales from its past as an engine workshop of the proud shipyard B&W. Today it is the perfect setting for an extraordinary day of celebration for up to 749 people. Werkstatt is a fun and creative playground and we are always here to help you tailor a solution that fits all your needs and wishes.
Werkstatt can be rented at different times of the year and offers various solutions depending on the season. We look forward to showing you our remarkable venue.
During the summer season you will experience the buzzing street food market, Reffen, just outside Werkstatt. A hotspot where locals and visitors from all corners of the world connect and indulge in exciting food and music right on the harbour quay. You can make use of Reffen's many facilities and retreat to Werkstatt for calmness and contemplation. An excellent combo!

We help you all the way from the first idea, setup, implementation and take down. Contact us and hear more about how we can help you organise your company event in Werkstatt.
During the winter season Werkstatt is available with and without furniture which opens up for even more specially designed solutions in the 1,000 m2 venue. You can access Werkstatt during the set-up, the event and the take-down. The venue has all the necessary facilities and plenty of room for creative ideas and tailored events.

If you have questions, ideas to discuss, would like a tour or make a booking, please contact us.
Refshalevej 167A
1432 Copenhagen K

Mail: salg@werkstatt167.dk
+45 33 93 07 60
Konferencer
Firmaarrangementer
Privatarrangementer
Events
Julefrokoster