Book Werkstatt for your next event. Our 1,000 m2 raw event space with high ceilings and excellent sounds is the perfect setting for all kinds of events. The old engine workshop is centrally located on Refshaleøen in Copenhagen and can host up to 749 people. Werkstatt is suitable for hosting a wide variety of events, from receptions, concerts and fashion shows to weddings and anniversary parties and much more.
A raw space with possibilities
Only a 10-minute bike ride from Nyhavn is our 1,000 m2 event space which is the perfect setting for specially designed events. Book Werkstatt and decide how you want to use the many square metres – we will of course be happy to share our ideas with you. In Werkstatt, there is room for big gestures and wild, daring ideas. Regardless of your event, the industrial surroundings and original details create a unique and raw atmosphere with lots of character. Together, we'll find the right solutions for your upcoming event.
During the winter season, Werkstatt is a versatile space that can be used in completely unique setups. You get access to Werkstatt during the set-up, the event and to disassemble. The room has all the necessary facilities and plenty of room for creativity and tailor-made events.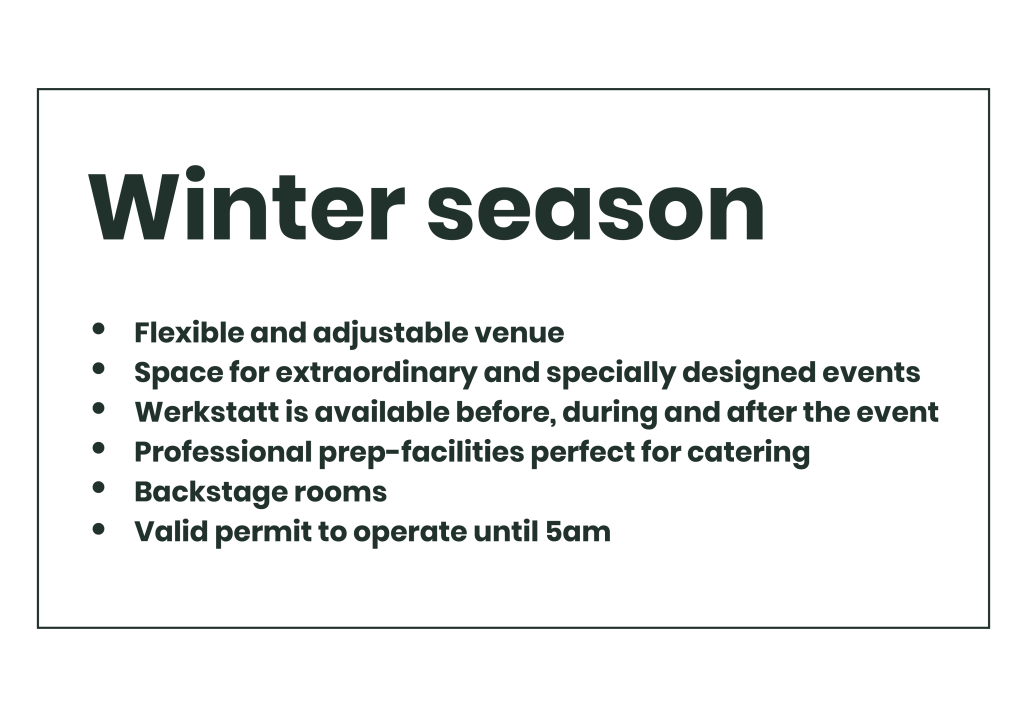 This season is especially intended for event organisers. In our 1,000 m2 venue, everything is designed to optimise your event. We have 20 years of experience from the industry and a strong understanding of the possibilities and facilities an event venue should offer. We have the know-how as well as capabilities to organise and host demanding and specially designed solutions that will make your event unique.
Werkstatt is equipped with professional prep facilities perfect for catering with the option of preparing food, power for oven, cooler for caterers, rinsing station for dishes and plenty of table space. We have a valid permit to operate until 5am, excellent AV equipment and cool light setup ready to host a huge party. The venue has a wardrobe and backstage rooms. If you have special wishes, we are of course always happy to discuss these with you.
The design of the individual event impacts Werkstatt's capacity but we are approved to host events for up to 749 people.
Werkstatt is approved to host events for up to 749 people. The design of the individual event impacts the capacity.
4 x 1 x 3 x 63 Amps
Access to WiFi 800 Mbit
Valid permit to operate until 5am
14 unisex toilets, 4 urinals and 1 disabled toilet
Professional prep facilities perfect for catering

10 minutes by bike from Nyhavn. Bus 2A runs from/to Copenhagen Central Station as well as to the metro station at Chr. Torv. The harbour busses 991/992 sail on a regular schedule between the city centre and Refshaleøen.
17 x 57 m or 969 m2.
Ceiling height 7.5 m + In-house lift
The parking options are good. These are agreed separately for the individual event.
Refshalevej 167A
1432 Copenhagen K

Mail: salg@werkstatt167.dk
+45 33 93 07 60
Konferencer
Firmaarrangementer
Privatarrangementer
Events
Julefrokoster