Book our event space - centrally located in Refshaleøen. With high ceilings, our rugged space can host your next large event for up to 749 guests. Werkstatt is 1.000 m2 and is ideal for a wide range of events from fashion shows, concerts to launches, entertainment and much more.
Event venue with endless possibilities
In the heart of Refshaleøen, you will find our event space where flexibility is our strength. This allows us to host a wide range of events with very different and unique setups. During the winter months, it is entirely up to you how you want to make use of our many square meters. In Werkstatt, there is room for big gestures and wild, daring ideas. Regardless of your event, the industrial surroundings and original details create a unique and raw atmosphere with lots of character. Together, we will find the right solutions for your upcoming event.
When you rent Werkstatt, you will experience a versatile space ready to be filled with your ideas and extraordinary setups. You are granted access to our space before, during and after the event to have the needed time to set up and disassemble. The room has all the necessary facilities and plenty of room for creativity and tailor-made events.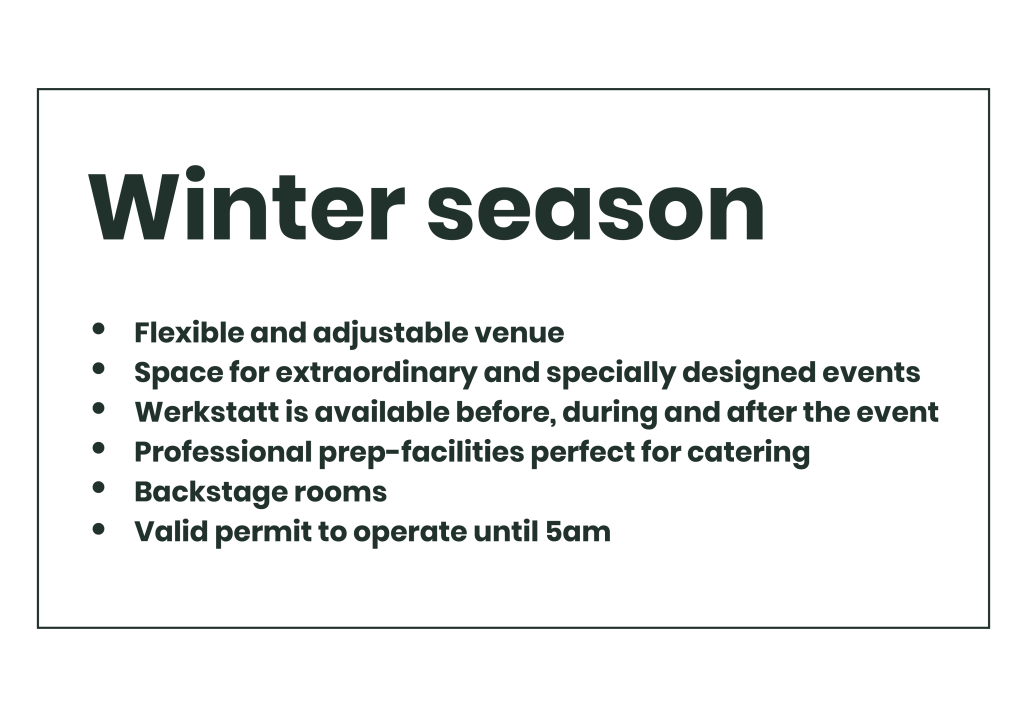 Our room is available during different periods of the year and the offer varies depending on the season. During the winter season, Werkstatt is an empty space ready to be filled with your creative, wild and daring setups.
When you step into Werkstatt, you will experience how nothing is left to chance and everything is designed to optimise your event. With more than 20 years of experience from the industry, we have gained a strong understanding of the possibilities and facilities an event venue should offer. We have the know-how as well as capabilities to organise and host demanding and specially designed events.
Werkstatt is equipped with professional prep facilities - perfect for catering with the option of preparing food, power for oven, cooler for caterers, rinsing station for dishes and plenty of table space. We have a valid permit to operate until 5am, excellent AV equipment and a cool light setup. The venue also has a wardrobe and backstage rooms.
If you have special wishes or want to hear how we can host your event outside of the winter season, we are of course always happy to discuss this with you.
Refshalevej 167A
1432 Copenhagen K

Mail: salg@werkstatt167.dk
+45 33 93 07 60
Konferencer
Firmaarrangementer
Privatarrangementer
Events
Julefrokoster